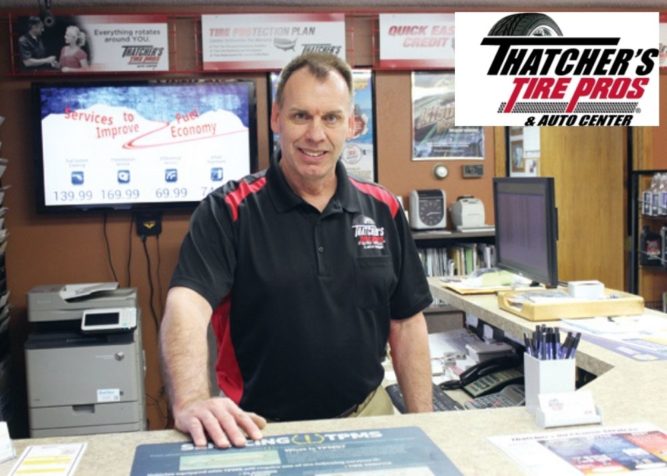 Every business claims to be the best. For Thatcher's Tire Pros & Auto Center, being the best is more than just a claim. Thatcher's Tire Pros & Auto Center is a proud Tire Pros operation serving the Superior, WI area for sixty-seven years and counting. Their staying power starts with providing clients the highest-quality tire and automotive services. But it's Thatcher's Tire Pros dedication to exceeding customer expectations and building long-term client relationships that truly sets them apart from the competition.
Jay Thatcher is Thatcher's Tire Pros & Auto Center forward-thinking President and third-generation business leader. Jay believes in utilizing the latest innovations to give customers superior tire and auto service experiences from start to finish. "Everything we use is the best that's available. It starts with using premium equipment for our expert technicians and, today, extends to our website," Jay remarks.
Creating the best customer service is an essential part of the Thatcher's Tire Pros complete tire and auto service experience. In Jay's words, "The customer service experience is important to us. When a business takes extra steps to meet a customer's needs, it creates a lasting impression on them. Our mission at Thatcher's Tire Pros is to do just that. We go the extra mile to deliver beyond our clients' expectations. It starts with a positive first experience that turns into lasting connections and return customers." For Jay, delivering customer service excellence now includes a digital-first mindset. " We make it a priority to stay on top of new technology. And it's more important than ever to create an experience that aligns with today's digital-first website visitors."
Using an Online Chat Platform to Keep Up with Today's Consumers
Jay realized Thatcher's Tire Pros needed a way to engage his current and future digital customers and the timing was now. He knew there was a sudden shift in consumer shopping behavior – they are now going online first to shop for services more than ever before."Today's customer is changing quickly and we need to keep up. Everyone wants instant results," Jay explains. "And, more and more, people prefer texting, chat, and other forms than verbal and real-time communication." In fact, Jay is right: research from Zipwhip shows that consumers prefer a business that makes it easy to communicate with. and that these consumers respond positively to the business by transacting more often, recommending the business to others, and giving positive reviews.
Jay searched for an innovative website solution that would meet the communication needs of his existing and future customers and the high service standards he sets for his Thatcher's Tire Pros. "I want Thatcher's Tire Pros to stay cutting edge and I looked for the latest technology to communicate with our customers, especially new ones."
Giving Website Visitors a Convenient Way to Communicate through Conversations
Jay discovered Openbay Otis met his goals. Openbay Otis is an advanced online chat and messaging platform designed specifically for the automotive service industry. Otis installs on a business website and appears like a button, but jumps into action to gain the attention of the website visitor – offering to quickly answer questions and deliver the information they are seeking in a chat-like format. It operates 24/7. It performs tasks such as appointment setting, delivers service estimates, and responds to questions about the business. Otis, powered by AI (artificial intelligence), supports single-location businesses in addition to service centers having multiple locations. And, Otis includes a tire catalog, able to retrieve tire pricing and availability information, and book installation service appointments. All within chat, in real-time.
Openbay Otis helps Thatcher's Tire Pros keep up with customer expectations by delivering a convenient, personalized online shopping experience, automatically, 24/7. "It was important for our business to give our website visitors a convenient way to communicate with us," comments Jay. He shares his reason for choosing Otis. "Otis is different from everything else out there. It gives our website visitors a way to engage in intelligent two-way conversations, instantly and directly from our website. Using Otis, website visitors – new and returning – get the instant, personalized experience they've come to expect."
Online-to-Offline (O2O) Consumer Experiences
Jay discovered Otis also helps the Thatcher's service advisor team operate more effectively. As the leading tire and auto service business in the area, Thatcher's Tire Pros sees an extremely high level of inbound requests. As a result, it's difficult for the service advisor team to keep up with demand. Jay describes the situation. "It's impossible for our team to stay on top of all the phone calls each day. And when they do, it's hard for them to find time to do anything else." Otis gives Thatcher's Tire Pros the ability to connect with customers automatically, 24/7, while allowing the Thatcher's Tire Pros service team to focus on other critical work. 
Furthermore, Otis helps Thatcher's Tire Pros bring the online to offline (O2O) experience together. Jay's team uses the Otis dashboard and the Openbay ASP app to follow customer conversations. After that, the team connects the online customer conversions to deliver a highly personalized on-site experience. Jay finds this connected end-to-end experience increases his team's ability to create an excellent customer service experience. "Our front line team knows what is happening throughout the process. They know the customer's needs before they arrive for their appointment. Otis helps them be prepared ahead of time to create the quality service experience Thatcher's Tire Pros is known for."
Advanced Online Chat Makes It More Convenient to Do Business
Above all, Jay reports Openbay Otis is increasing customer acquisition, engagement, and appointments for Thatcher's Tire Pros. "Openbay Otis brings new customers in the door and gives website visitors an even more convenient way to do business with us. We're glad we added this new technology to our customer experience and our business has the positive results to show for it." 
Jay offers his perspective to other tire and auto service businesses considering adding advanced online chat to their website: "Openbay Otis is another form of technology that can bring in business you may not currently have. It aligns a business with consumer preferences and brings it up-to-date. It's worth trying to see how it can work for your business." 
Discover how Openbay Otis, the advanced online chat platform for automotive service businesses, can engage your website visitors and improve the online customer experience. Contact Openbay today.
Want to learn more? This article from Openbay founder and CEO Rob Infantino explains the benefits of the latest chat technologies. Or, listen to Rob discuss online chat platforms with Tire Review Managing Editor Madeline Winer.