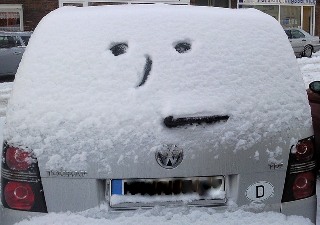 Some people are so frightened by the idea of driving in winter that they simply don't do it, instead opting for public transportation or snowmobile. Just kidding about the snowmobile part – but the public transportation part isn't a bad idea, if you can swing it. Some people just use a different car in the wintertime. However you choose to get around, storing your car away all winter can do a real number on it and can make it impossible to start once the spring thaw has arrived.
Winter Car Storage Tips
If your snow lasts a bit longer, and your car storage will take place for more than a couple months, it's also important to roll the tires at least a few inches each month. When you let your car sit for extended periods of time without moving, your tires can develop flat spots. These flat spots can damage the integrity of your tire and you may have to have them replaced in order to drive your car safely. If you can't be around to roll your tires, inflate them to the maximum recommended limit. Under inflated tires tend to get flat spots much easier.
Need to schedule car repair or maintenance work? Start with 
Openbay
. Compare pricing and book service from quality local shops with the click of a button. Openbay is car repair for today's world.